WHY choose Seawater Pro Desalination ?
USA manufactured options
Lowest cost US made desalinators in the world
High quality components
Lifetime warranty on in house manufactured parts
Best customer service
Innovative design & Engineering
Field Proven – Over 1000 units in operation worldwide
For Marine or Residential applications
Price TBA Please call
Modular design allows for a custom fit into limited spaces
Modular systems available in DC 12v or AC110/240v
Control Panel available as option
Stainless pumps with Ceramic piston Pumps made by General Pumps
USA made motor 30% more efficient than competitor import motors.
USA made Pressure regulators, membranes, housing and connections
In house designed and made pressure regulators with pressure relief.
Shock resistant designed pressure housings, no failure of membrane housings possible.
In house designed made end caps, easy to remove and service
Double o-rings on end caps
Single to 4 membrane solutions
Lifetime warranty on all in in house made parts
View Stainless Pump PDF
View Modular Brochure PDF
Not currently in stock. Call to arrange shipment.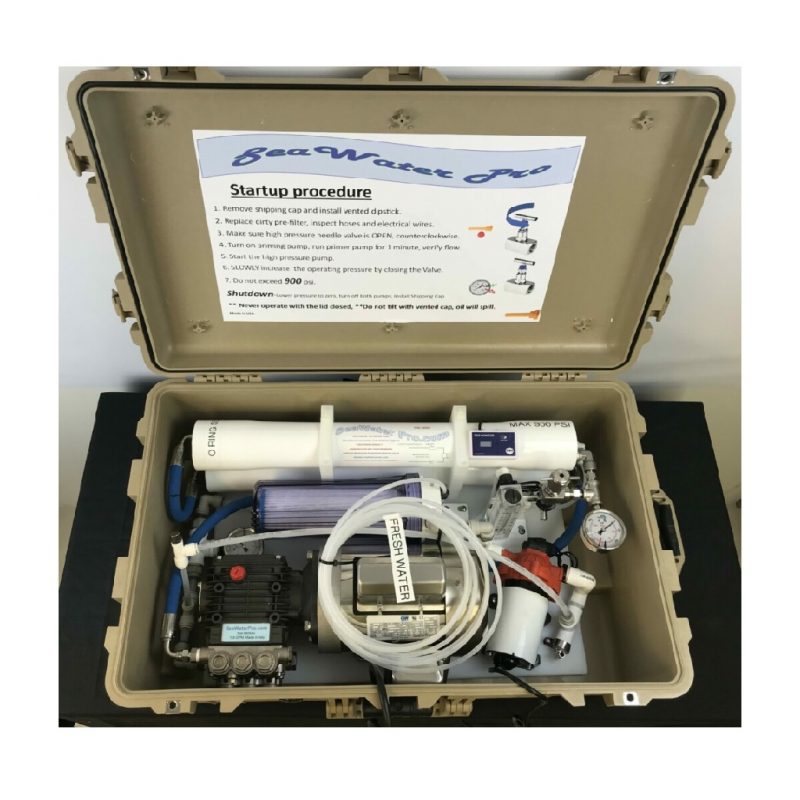 Portable desalination for any vessel, 4wd or camper
USA boost pump
USA made Pressure regulators, membranes, housing and connections
3 stage filtration
Depending on unit, production can be 45L to 87 litres per hour
316 stainless in house manufactured Seawater pro Constant flow regulator
Realtime water analyser
Military grade case with wheels
View Portables Brochure PDF
Buy
Modular or portable systems for portable water on demand
Spare Parts
Select from the catalog of spare parts for your Seawater Pro System
Help
Let us help you to choose best Watermaker model